What's in the Navigator Limo?

*Star-gazer mirrored ceiling *
*Real Crystal lite bar
*DVD with 3 LCD Screens *
*CD full surround sound System *
*Tinted Windows *
*Disco Lighting*
Back Bar Lighting
Navigator Limos
Please note this vehicle is no longer in use in accordance with VOSA UK Transport Legislation.
The Lincoln navigator limo hire is a full sized SUV. The powerful 5.4 L V8 engine. The Navigator is available in Black or Pink. Many people book the Navigator because it looks like Hummer Limousine. The limousine jeep and 20" Chrome Spinners. The Sunroof is great fun when you have a school prom.

Navigator Limousine : "A party on wheels"; bars, DVD player, CD sound system, CD Changer, Laser Light Show, Mirrored Ceiling, Fiber Optics, ... and a Moon Roof. We cover Birmingham, Leicester, Northampton and Coventry. Limo Hire are proud to offer a navigator limo hire for your night out at competitive prices.

Navigator Limo Hire | Navigator Limousine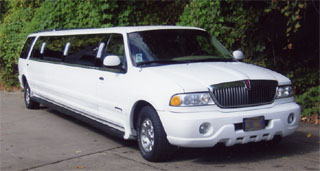 Free Limo Hire Quote please phone 0845 055 0740 or visit our limo hire areas to find your nearest limousine operator.


Last minute limo hire is available for all our limo jeeps. planning a last minute booking? We at limo hire can help. Why not phone our customer service which are open 24 hours a day 7 days a week, and will give you the best deal possible. Hen night limo hire are very popular in the navigator limo jeep due to the sheer size of the limousine.
Latest Navigator Limousine Hire Articles: